Who says summer camps are just for kids? Imagine the summer camp you went to, but with parties, alcohol, and no one telling you what you have to do. Adult summer camps will give you just that: fun, without a curfew. Grab a group of friends, or go alone to meet new ones, and book your stay at one of these adult camps!
Club Getaway – Kent, CT
Best Overall Adult Camp
Three words: air-conditioned cabins. Yep. Forget the days of sweltering in a cabin, at Club Getaway in Kent, Connecticut, you'll stay in "rustic-chic" cabins with air-conditioning and private bathrooms. Pick a shared cabin with people you don't know (all must be fully vaccinated), share a cabin with 1-3 friends, or choose to have a cabin all to yourself. The activities are endless: swimming, hiking, volleyball, water skiing, a zipline, and so much more. If you'd like to bring the kids, they have a family camp as well. Weekends start at $399 per person.
Camp No Counselors – New York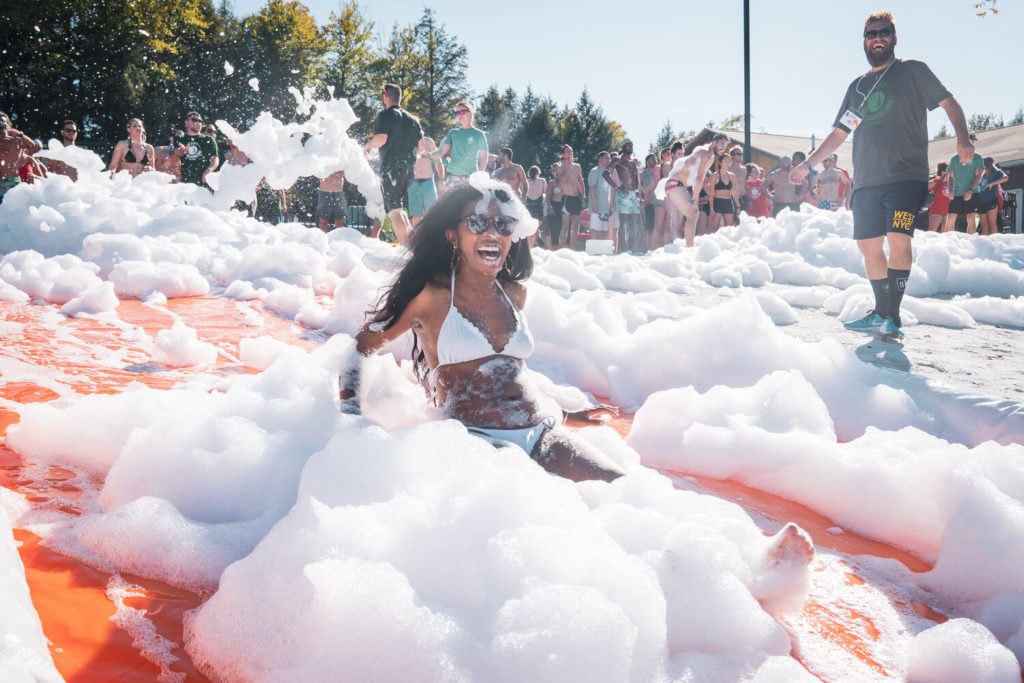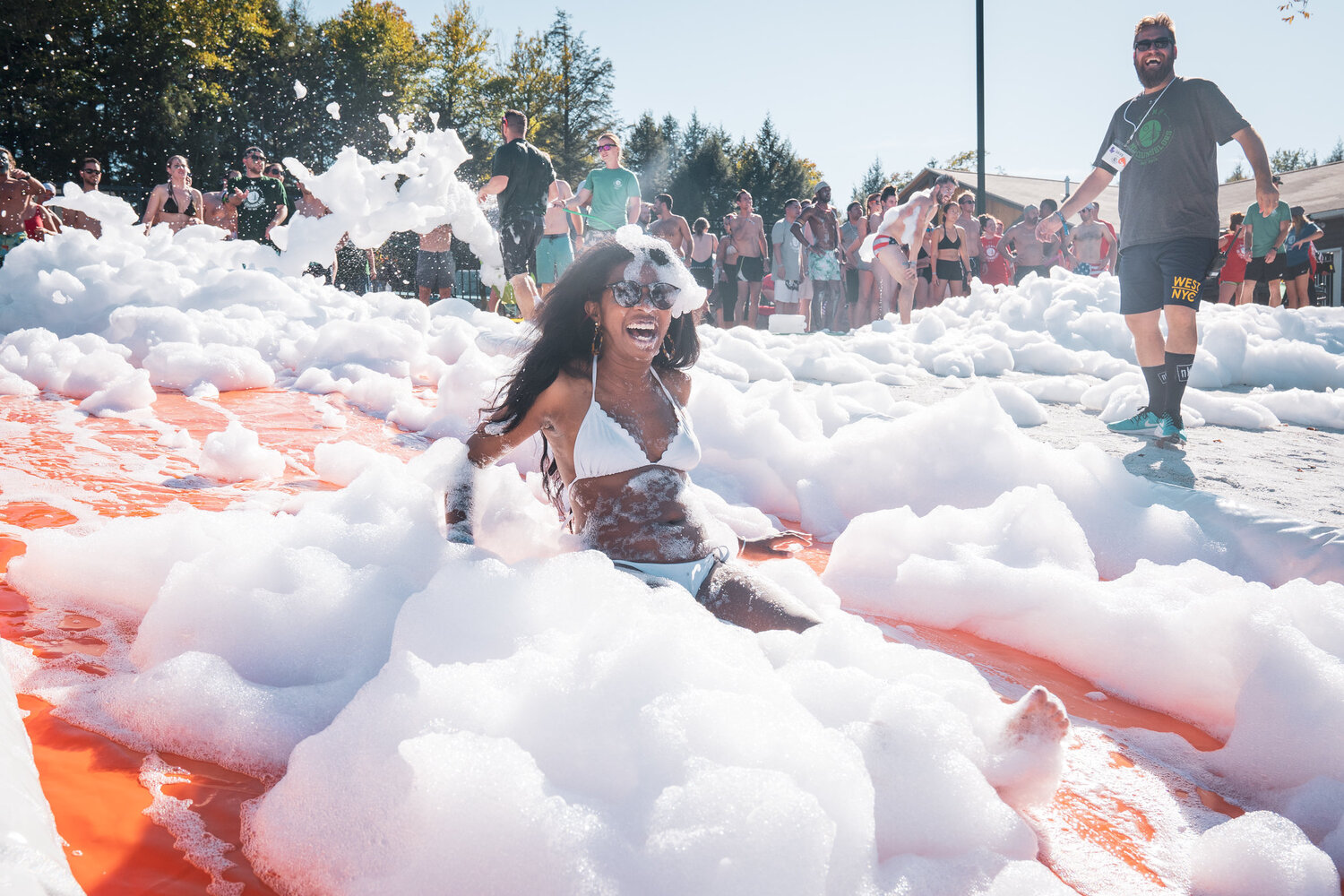 Best Party Adult Summer Camp
This all-inclusive camp is, quite frankly, more like a resort than a summer camp! Your all-inclusive weekend will include alcohol, accommodations, food, and activities. Located in northeast Pennsylvania, and only 2 hours from New York City, Camp No Counselors (CNC) has a heated pool, lake, and loads of fun activities- including tubing, dodge ball, arts and crafts, and kayaking. Oh, and did we mention the parties? Each night you're there, you'll have a blast at CNC's socials—music, dancing, campfires—everything you need to have a weekend of fun. CNC also has locations in LA and Florida. The New York location offers a "Recharge" weekend, an alcohol-free, health and wellness experience like no other.
Related: The 12 Best Inflatable SUPs, Floats, and Kayaks on Amazon
Camp Halcyon – Wautoma, WI
Best Traditional Adult Summer Camp
For a traditional summer camp experience (no electricity in the cabins), head to Camp Halcyon in Wautoma, Wisconsin. This all-inclusive camp will bring you back to the good old days, probably assisted by the alcohol that is included. Enjoy a nightly s'more bar, canoeing, wine tastings, ax throwing, yoga and so much more. Arrange to bunk with friends, or enjoy meeting new people in your assigned cabin.
'Camp' Camp – Portland, ME
Best LGBTQ+ Summer Camp for Adults
Although they are holding a virtual camp for the second year in a row, 'Camp' Camp is worth a look and will be back in person in 2022. Traditionally a week-long camp where you can recharge, connect with nature, and, best of all, just be yourself, 'Camp' Camp is filled with ways to just have fun and forget about real life. Choose from a wide array of activities including arts and crafts, theatre, yoga, and, of course, swimming. In-person camp is $1750 for a week and includes accommodation, meals, alcohol during special events, and all activities.
Related: 12 Best LGBTQ-Friendly All-Inclusive Resorts Around the World
Camp Wandawega – Elkhorn, WI
Best Non-Traditional Summer Camp for Adults
Unlike most summer camps on this list, Camp Wandawega is more of a DIY summer camp. You book a cabin through Airbnb and create your own experience. Choose from a diverse range of cabins including vintage cabins, bunkhouses, and even a renovated 1930's summer cabin. They do have guides available for special counselor-led programs like knot tying, basic survival, fire building, archery, night hikes – whatever your heart desires! While you'll only get your accommodations included when you book, there are grills, smokers, and griddles available to use, you can try their "camp culinary" partnership, which delivers delicious, fresh, local food to your cabin, and there are plenty of local restaurants to choose from. They specialize in private retreats, so be sure to check that out for your next event.
Epic Nerd Camp – Darlington, MD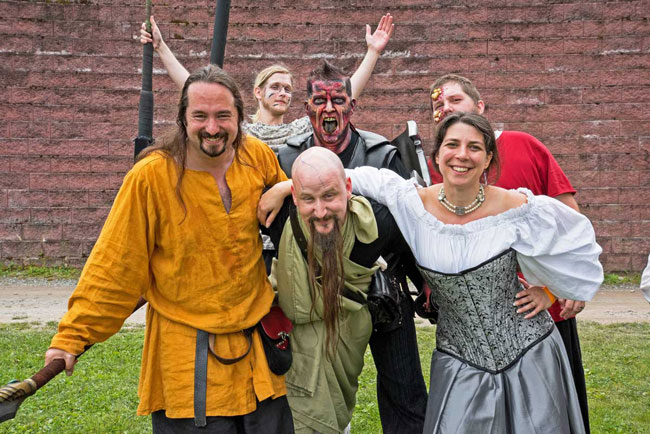 Best Specialized Adult Camp
Embrace your inner nerd at this one-week camp in Maryland. If you are a Sci-fi, fantasy, or gamer aficionado, you will have a blast as you live out your dreams in real life. Try your hand at an abundance of nerd-centric activities like axe throwing, wizard duels, quidditch (in or out of the pool), combat archery, lightsaber combat, and even a simulated Space Quest adventure. If you need a break from the fantasy play, don't worry, there is yoga, canoeing and other traditional camping activities as well.
All products are independently selected by our writers and editors. If you buy something through our links, Oyster may earn an affiliate commission.